BOARD OF DIRECTORS
Adam Saturley
Director
Adam Saturley began his career in emergency services in 1999 where he started as a dispatcher in the Emergency Link Centre with STARS. He then obtained his EMR and EMT-A certifications and work with various ambulance and fire services before settling in Lethbridge where he is currently employed as a Fire Prevention Officer with the Lethbridge Fire and Emergency Services Department – Fire Prevention Bureau. Adam is certified as a Level II Fire Inspector and Investigator with the Safety Codes Council of Alberta, and has been a member of the Fire Investigation Association of Alberta since 2010. Adam has also acquired his Fire Investigation Technician and Evidence Collection Technician designations through the International Association of Arson Investigators. Adam is also working with FireStorm Consulting Group to further enhance his experience and knowledge in the area of fire investigations.
Contact:
(403)715-3948 (cell)
(403)320-4110 (office)
adam.saturley@lethbridge.ca
adam.saturley@firestormconsultinggroup.ca
Adam Saturley
IAAI-FIT, IAAI-ECT, SCO (Fire), MIAAI
Lethbridge Fire and Emergency Services
Jay Goupil
Director
Jay Goupil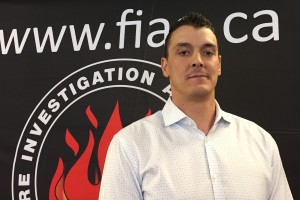 I'm Jay Goupil, Sr. Fire Inspector/Fire Investigator with the Regional Emergency Services in the RMWB based in Fort McMurray. I am joining the board with nearly 10 years of experience in the fire investigation field. Before my current role, I worked as a fire sprinkler system designer/project manager in Ontario, Quebec, and North Carolina. I am excited to join the board of the FIAA and hope to complement this great organization with new and exciting ideas. A born and raised bass fisherman from South-Eastern Ontario, you can usually find me now on my fishing boat catching big Northern Alberta gators. I'm looking forward to working with and for all of you.
MEMBERSHIP
Our membership draws from
private and public fire investigators.
TRAINING
For a full list of upcoming seminars,
browse our course calendar.
FIAA NEWS
Stay up-to-date with all the latest
FIAA news and course postings.